Hydration for Schools & Education
Water is vital to virtually every school as necessary fuel for students. Well hydrated students are more productive. They are more focused, suffer less fatigue, and get more done. Poor hydration, sometimes suffered by students, can cause energy-sapping symptoms like headaches and dizziness and can send productivity plummeting. Proper hydration matters for your students. So an investment in plentiful fresh drinking water is an investment in your bottom line.
Get the RIGHT SOLUTION first time!
We offer a holistic, 360-degree review of your requirements by providing a FREE needs analysis to ensure you get the solution first time.
We make individualised recommendations based on usage, floor plan, traffic density, indoor vs outdoor, availability of plumbing and electricity, and more. The end result is a plan that makes the most efficient use of available space and resources.
Making the Right choice and choosing the right means of hydration is vital. Periodic trips to the drinking fountain aren't enough. Most people these days prefer to have a bottle of water available with them at all times so talk to us about our REFILL NOT LANDFILL initiative and be part of the solution!
Lead the School Sustainability Movement
Bring the campaign to your faculty and students.
We'll help by providing robust post-installation awareness and advocacy materials.
AQUA can partner with your on-campus advocates to spread the word about the benefits and reasoning behind a sustainability movement. You will likely find your student body is well ahead of you in readiness to hear the message.
Because of our ongoing commitment to green thinking, AQUA is proud to work in partnership with you to promote healthy hydration with less environmental impact.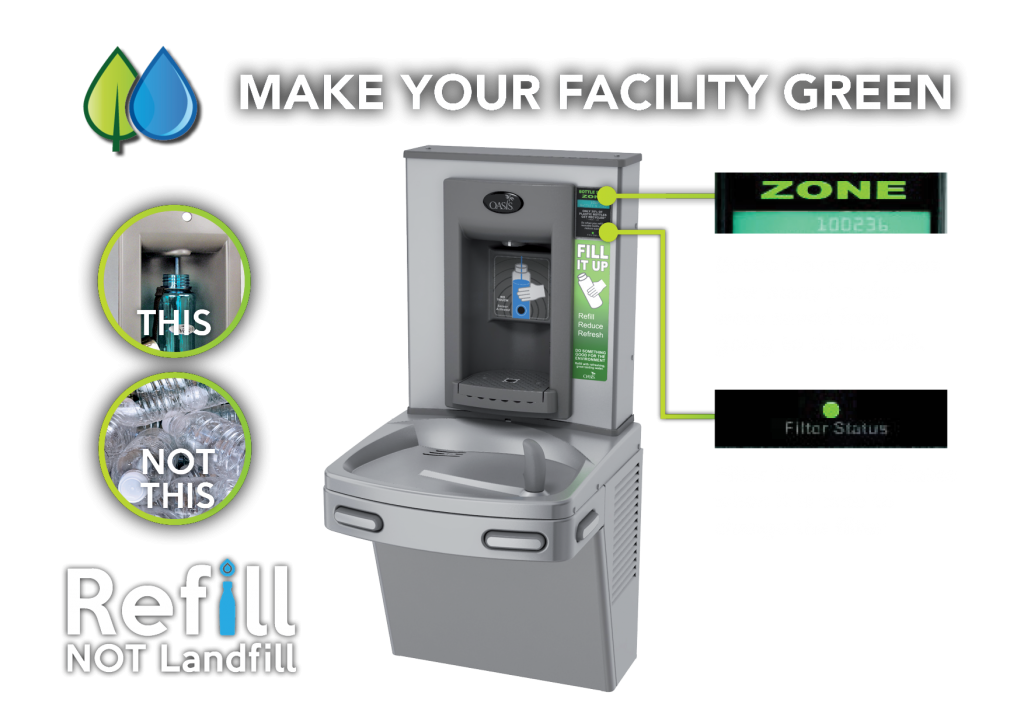 All
Fountain & Bottle Fillers
Inline Water Coolers
Outdoor Drinking Fountains
Plumbed-In Coolers
Sparkling
Underbench Taps