Hydration for Airports & Transport Centres
Water is a vital part of life. By keeping our travelers refreshed and well hydrated, they are more focused, suffer from less fatigue and get more done. Poor hydration suffered by travelers, can cause energy-sapping symptoms like headaches and dizziness and can have a negative impact on their mood. Proper hydration matters, so be sure to have a plentiful supply of fresh drinking water available to maintain an enjoyable, efficient, on-course journey.
When you are rushed off your feet, jet lagged and thirsty, AQUA are there with solutions for the Transportation Industry.
The quality of your drinking water options reflects on your brand, especially with restrictions on liquids that prompt many people to travel with empty bottles that need to be filled after clearing security.
Also, each terminal or gate should have at least one fountain that requires
no electricity. Only AQUA has every bottle filler configuration available with mechanical or electronic activation.
Install a bottle filler and help busy travelers stay healthy and hydrated
while on the go. Upgrade the water fountains in your facility with a retro-fit, touch-free and electronic bottle filler and keep your customers satisfied
with a sustainable water solution.
As the public strive to improve their carbon footprint, you can empower
them by becoming leaders in the sustainable hydration movement. There are major financial incentives too. Thoughtful, judicious use of utilities is almost always a significant part of these goals, but water is often forgotten about.
Manage Your Risk:
Risk-related sustainability issues can affect as much as 70 percent of earnings before interest, taxes, depreciation, and amortization.
Thoughtful water usage plays a critical role in meeting sustainability goals.
At only a fraction of a cent per serving, OASIS® water systems are the LOWEST-COST amenity you can give to workers. OASIS have been leaders in environmentally responsible practices since our start more than
100 years ago.
Water conservation efforts are a significant factor in achieving BREEAM status (sustainability assessment method for master-planning projects, infrastructure and buildings).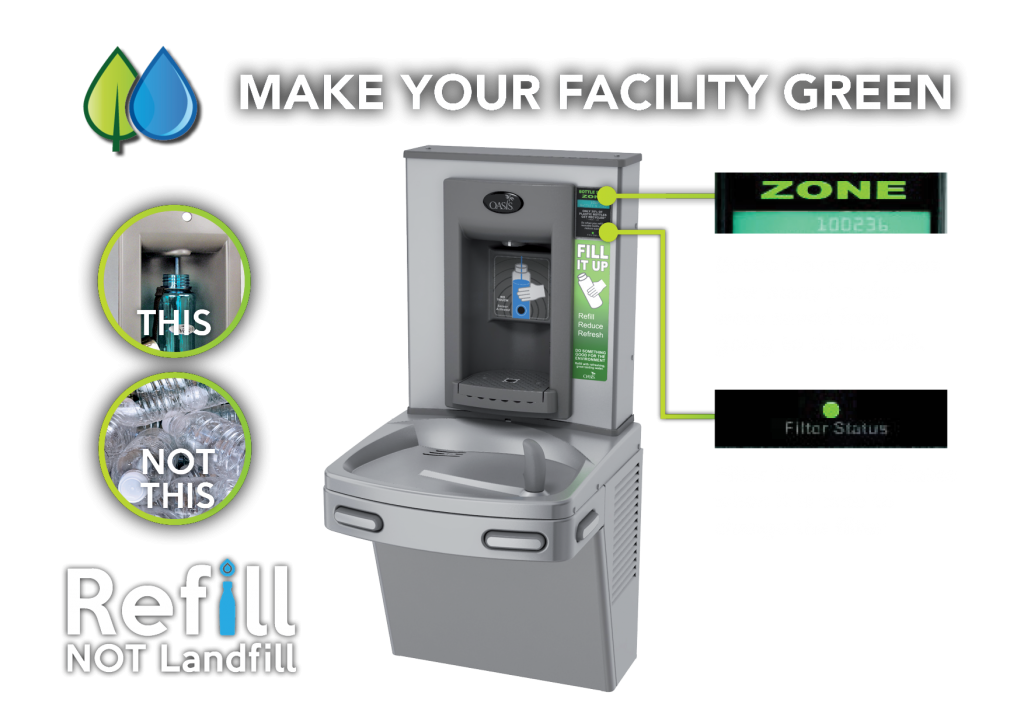 All
Fountain & Bottle Fillers
Inline Water Coolers
Outdoor Drinking Fountains
Plumbed-In Coolers
Sparkling
Underbench Taps